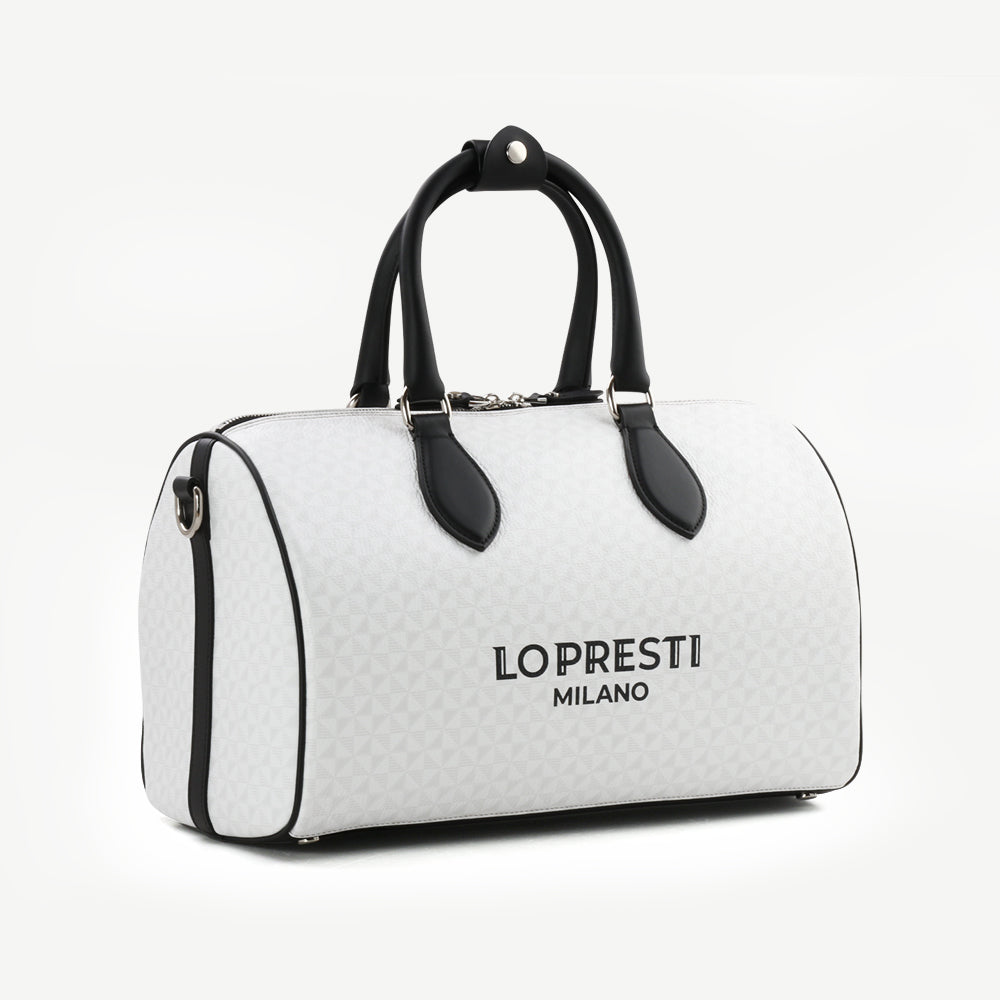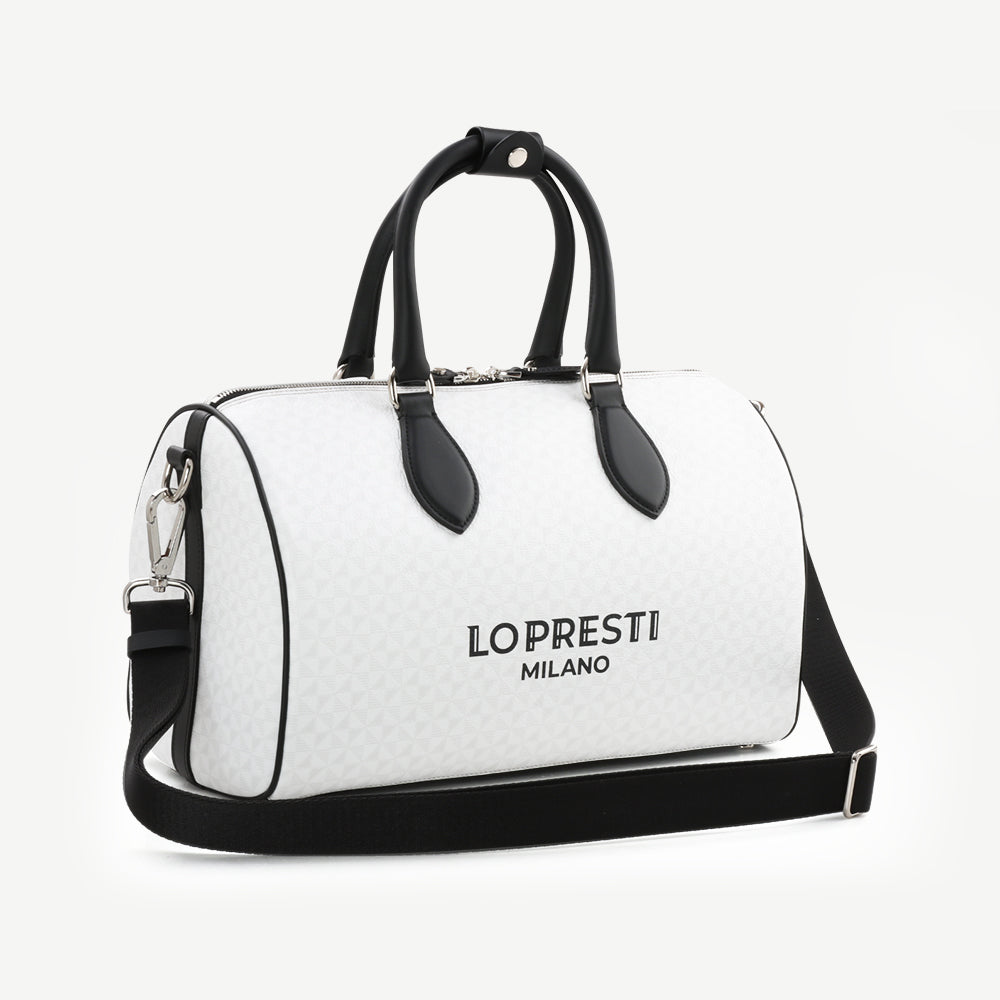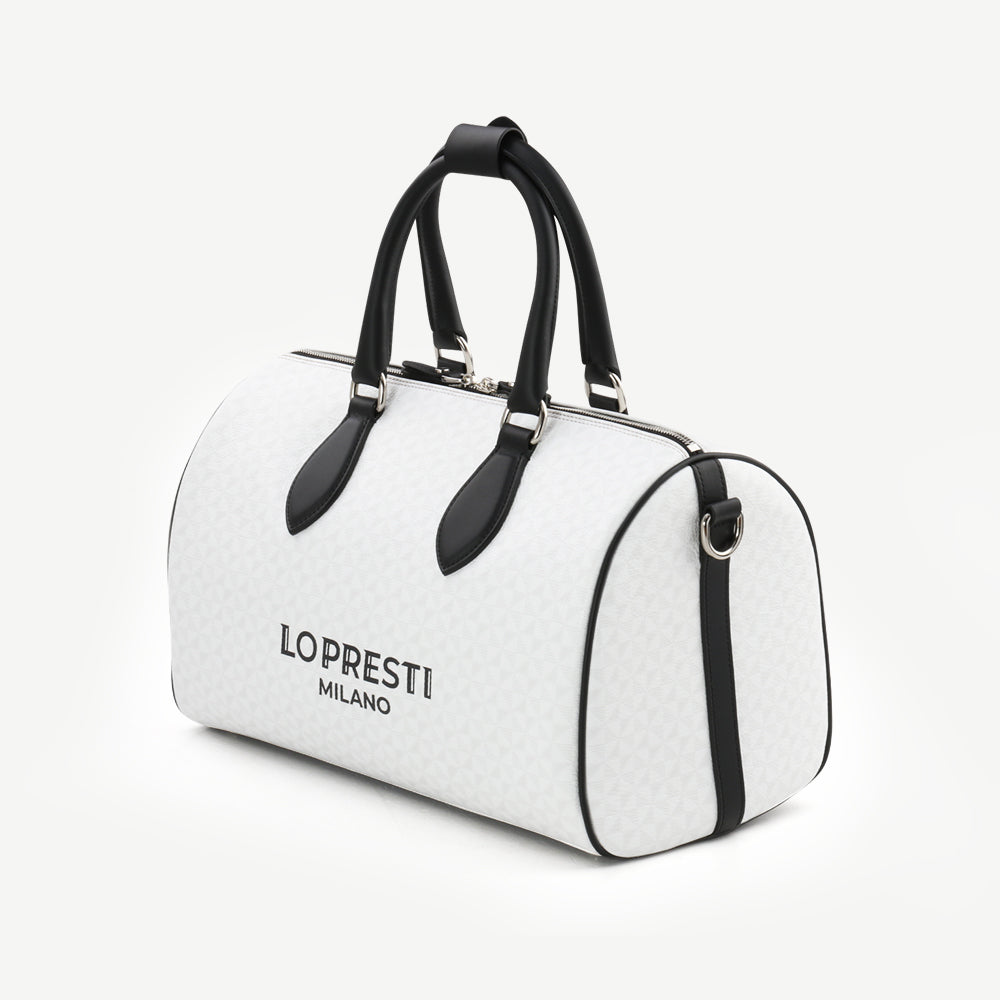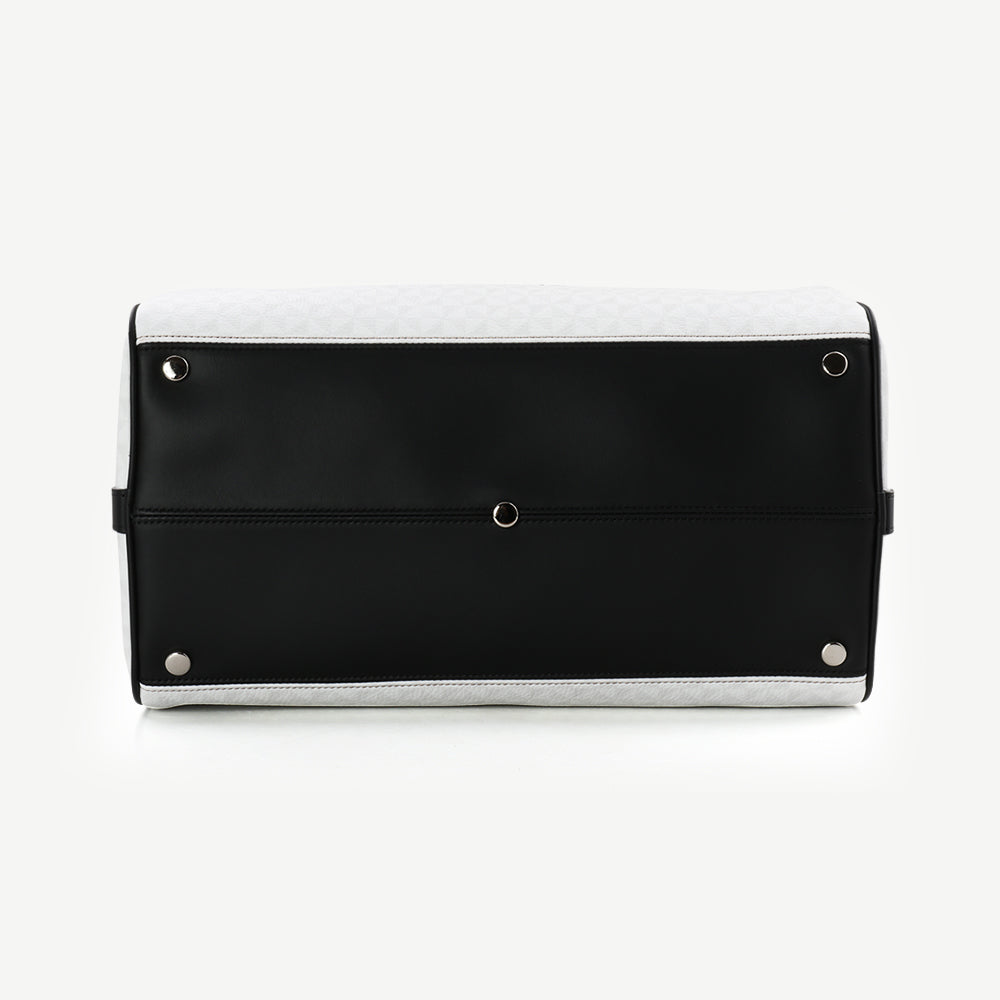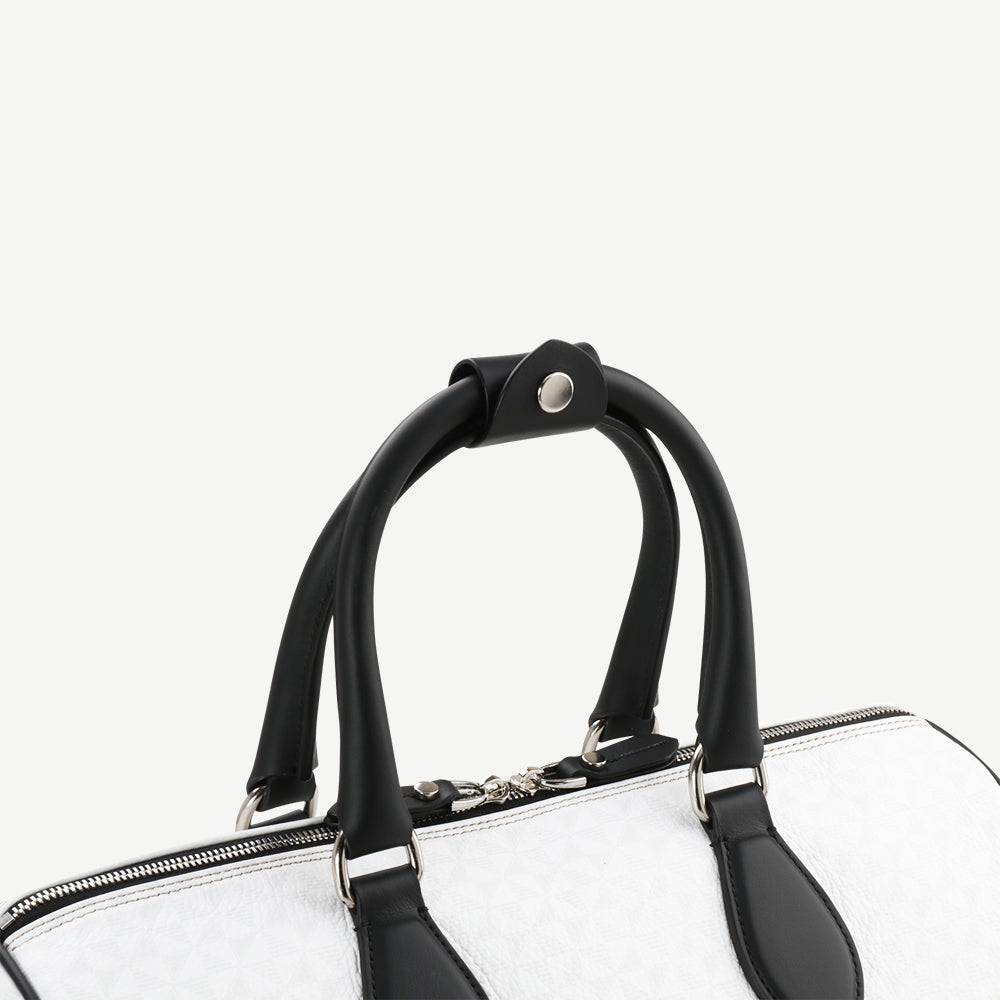 Description
CARE INSTRUCTIONS
WHITE / GRAY / BLACK
MONOGRAM PATTERN

NAPPA LEATHER TRIM

TEXTILE LINING

SILVER METAL HARDWARE

ZIPPER CLOSURE

INTERIOR COMPARTMENT WITH ZIPPER

STRAP: REMOVABLE AND ADJUSTABLE

20 CM X 37 CM X 21 CM
LO PRESTI WEEKENDER
THIS BAG MAKES FOR A STRONG AND STYLISH STATEMENT, WHETHER CARRIED OVER THE SHOULDER OR IN THE HAND. THE SUPPLE ITALIAN NAPPA LEATHER ON WHICH THE UNFORGETTABLE LO PRESTI MONOGRAM PATTERN HAS BEEN IMMORTALIZED- A SUBTLE YET UNMISTAKABLE SIGNATURE OF THE HOUSE. SILVER HARDWARE AND BLACK TEXTILE STRAPS ACCENTUATE THE ABSOLUTELY MASCULINE LOOK OF THIS BAG.
In order to maintain the beauty of your LO PRESTI product even after years, we recommend that you follow the care instructions below:
• Be careful not to rub the product, especially the leather trimmings, against rough surfaces.
• Avoid contact with oily substances, cosmetic products, perfume, hydroalcoholic solutions, as well as with any material (newspapers, other leather items, etc.) that could rub off their color pigments onto the product.
• Keep your product out of reach of water. If your product gets wet or dirty on the surface, you can gently wipe the surface with a damp cloth.Never use soap or solvents.
• Store your product in the enclosed protective bag when not in use.
• Keep your product away from humid environments and avoid direct exposure to sunlight. Do not expose your product to direct heat sources (radiators, vehicles heated by the sun, etc.).
• A light rain shower should not affect the product, but we recommend avoiding contact with rain and water. If the product gets wet, allow it to air dry without exposing it to heat or warmth. If necessary, you can gently wipe the surface with a damp cotton cloth.
• Leather will age over time and according to use, which may cause the print to appear slightly wrinkled and faded. This naturally occurring wear and tear can also cause the initial color of the leather to show through the print. When you are not using the product, we recommend storing the leather item in a cloth bag or similar to preserve the quality for as long as possible.

If you have any questions about your product, you can always contact our customer service.
FAQ
PAYMENT INFORMATION
Payments can be made by credit card, PayPal or SOFORT as a bank transfer.
The following credit cards are accepted: Mastercard, Visa, American Express.
RIGHT OF REVOCATION
For online orders, you have a statutory right of withdrawal. You can cancel the purchase contract within 30 days (i.e. beyond the statutory period of 14 days) without giving any reason.
If you wish to return your product, please contact LO PRESTI Customer Service for a return or request your return online in your My Account.
PICK UP IN STORE
We apologize that this option of delivery is unfortunately not available to you at this time due to the current situation.
EXCHANGE
You may exchange a LO PRESTI product within 30 days of delivery if the product does not meet your expectations.
If you have any further questions, please contact our customer service.
SHIPPING
SHIPPING INFORMATION
Please choose a delivery address where you will be present at the time of delivery, as the order can only be delivered in person. The package can not be collected from the carrier in case of non-delivery.

Please note the following additional information:
• All products are shipped to you already gift wrapped. 
• The ordered item will be produced after the order, exclusively, so we avoid unnecessary burden on the environment with tons of pre-produced leather bags.
• The duration of production is between 4-12 days, then your item will be sent to you by express delivery.


Under "Address addition" you can add further information about your address.
If you require further information regarding a delivery, please contact our customer service. Our consultants will be happy to assist you.